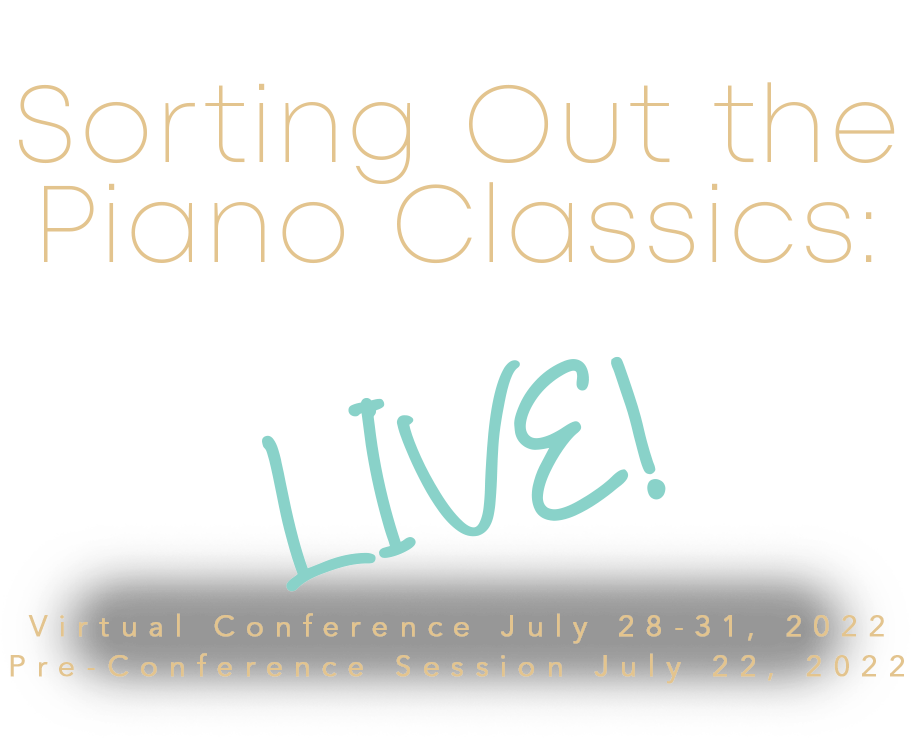 This Conference has concluded, but you can still register for the 5 core sessions of the Conference (Elizabeth's sessions described further below).
YOU'LL RECEIVE:
LIFETIME access to the video content. Watch anytime at your leisure.

Downloadable handouts and downloadable PDF guides to help you select music for your students.

3 group coachings on teaching classical music in January, February, and March of each year. It's your chance to ask Elizabeth or guest presenters about the classical repertoire you are teaching or plan to teach.
NOTE: The 3 guest sessions described below are not included and are no longer available.

Creating a logical, progressive order of classical repertoire for your students doesn't have to be intimidating. This conference will show you how.
Five reknowned clinicians will provide you with loads of inspiration and teaching strategies to take right to your studio next fall! You'll receive access to their LIVE webinars plus on-demand access to the replays without expiration!

"I have found this Conference so immensely helpful on a number of levels. I didn't know how much I needed this study right now. So many practical things that can be used right away."
- Faith Sasser, Lockport, New York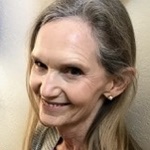 "This has been an OUTSTANDING camp/conference! Every session has been so on point! Just so grateful for all your preparation and dedication, Elizabeth."
- Kathy Morey, Los Angeles, California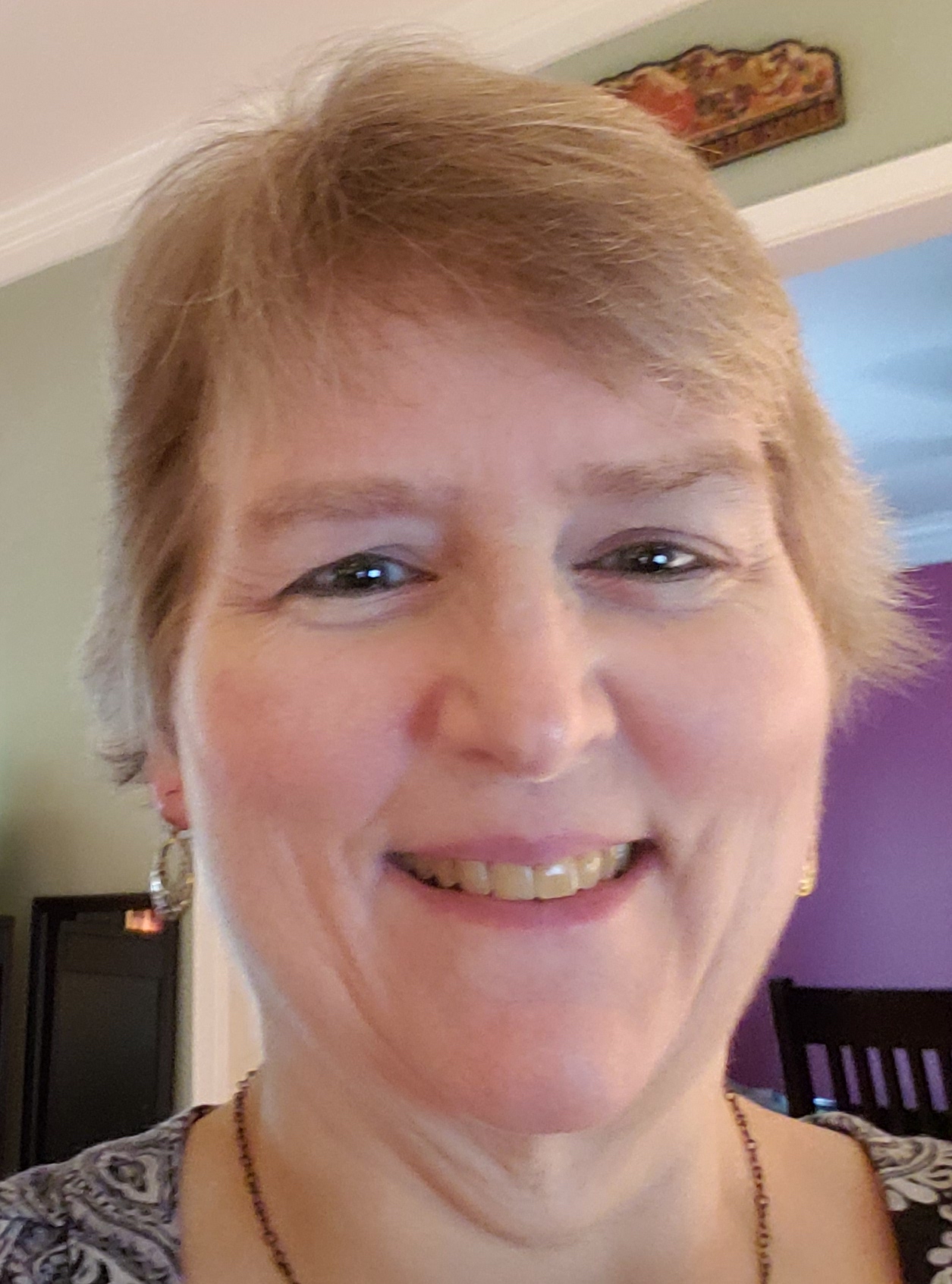 "I really enjoyed the Conference and thank you again! Even though I have been teaching for 35 years, this area was a bit gray for me so I learned a lot!
- Chris Morrow, Lawrenceville, Georgia
This course is closed for enrollment.
Schedule
Friday, July 22nd
10:00AM Central
Pre-Conference Feature Presentation: "A Conversation with Jane Magrath: An Insider View to Piano Literature for Teaching and Performance (2021)"
In this session, Dr. Magrath will provide insights on ways piano teachers can use this book to discern what is possible for students at various stages of their musical growth. Additional ways to use this volume will include suggestions to expedite independent teacher self-study and ways to use it with a teacher study group or for a college/university course. Solutions for some teaching situations will also be offered.
Thursday, July 28th
10:00AM Central
"First Steps in Classical Literature: Mid-Elementary Levels"
In this session we'll embark on the process of transitioning students from a method book to the classical repertoire. We'll discuss the appropriate time to introduce the easiest-level classics and the musical and technical underpinnings necessary for a secure start. Elizabeth will give an overview of the most sensible classics with which to begin along with performance demonstrations and discussion on key teaching points. The handouts will guide you in your selection of pieces for each era, Baroque, Classical, Romantic, and Modern.

1:00PM Central
"First Steps in Classical Literature: Late Elementary Level"
To wrap us this day we'll tour late elementary classical solos for each era, Baroque, Classical, Romantic, and Modern, with an overview of common teaching pieces found in most collections and a few lesser-known options teachers should know about. At this level the interplay between the hands increases, paving the way for more complex homophonic and polyphonic textures to come. Elizabeth will guide you through some essential choices while offering some important teaching advice and demonstration.
Each webinar session will offer a thematic index for all presentation pieces, a handout for note-taking, plus plenty of time for Q and A at the end.
Friday, July 29th
10:00AM Central
"Classical Foundation at the Early Intermediate Level"
The early-intermediate level is where most teachers usually begin teaching classical literature. The selections available here are vast and wide and when planned carefully, students can gain some solid foundation for all classical repertoire to come. What should you choose, and in what order? How much should be covered before a student is ready for intermediate level? These questions and more will be answered along with demonstration and discussion of essential pieces from each era and those featured in most published collections.

1:00PM Central
"The Black Hole: Intermediate Classical Repertoire"
It's easy to breeze by the intermediate level much too quickly in favor of learning favorite masterworks at the higher levels. We'll explore multiple styles and forms from all eras that assist students in harnessing a strong interpretive ability, more imaginative musical thinking, and technical prowess. Core foundational pieces will be highlighted and discussed along with other lesser-known student favorites to add to your arsenal.
Each webinar session will offer a thematic index for all presentation pieces, a handout for note-taking, plus plenty of time for Q and A at the end.
Saturday, July 30th
10:00AM Central
"Core Repertoire at the Late Intermediate to Early Advanced Levels"
This repertoire is the gateway to a multitude of styles, keyboard textures, forms, and fun! You'll learn of the works that serve as requisite "springboards" toward the bigger Beethoven sonatas, larger romantic masterworks, and highly rhythmic modern works.
GUEST PRESENTERS
1:00PM Central
"Demystifying Baroque and Classical Ornamentation"
Join us for a lively discussion of Baroque and Classical era ornamentation. George Litterst will be joined by German pianist and early music scholar, Ratko Delorko. Maestro Delorko performs on period and modern instruments and is known to many teachers as a popular presenter at national and international conferences. Together they will discuss practical ways to approach ornamentation with musical freedom and authenticity.
Sunday, July 31st
GUEST PRESENTER
1:00PM Central
"Mozart: Lovely to Listen to, but Tricky to Teach"
Mozart's music seems to flow with an easy elegance that obscures just how difficult he is to teach. In this talk, Peter Mack gives suggestions to help the 'simple' sound sublime. Works covered: Minuet in F major, K.2; Sonata in C Major, K. 545; Rondo alla Turca from Sonata in A Major, K.331; Fantasia in D minor, K.397.
Pre-Conference Featured Speaker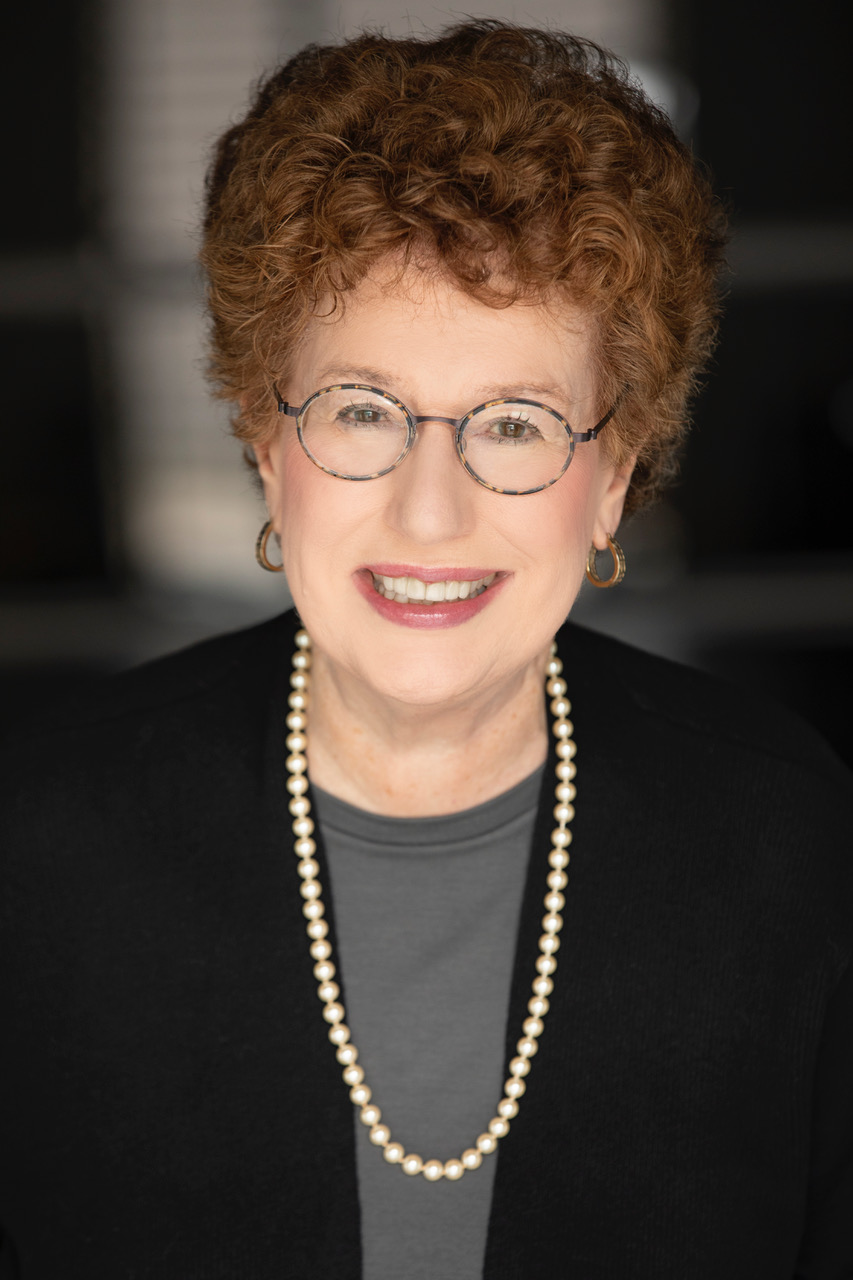 JANE MAGRATH is well known as a pianist, author, and clinician. Her work in the area of the standard classical teaching literature has been central to the current revival of interest in the music throughout the United States and her two books Piano Literature for Teaching and Performance and The Pianist's Guide to Standard Teaching and Performance Literature are part of many pianists' libraries. She is Professor Emeritus from the University of Oklahoma, having taught on the faculty for over 38 years. Her music anthologies with Alfred Music are used throughout the US and abroad.
Presenters
Ratko Delorko discovered the piano as his favorite toy at the tender age of three. His professional background was shaped by studying piano, composition and conducting in Cologne, Düsseldorf and Munich. He has performed with such varied venues as the Berlin Philharmonie, the Tonhalle in Düsseldorf, the Cologne Philharmonie, the Gasteig in Munich, the Philharmonie in Essen, Hamburg's Musikhalle, London's St. Martin in the Fields, Paleau de la Musica in Valencia, Beijing's Concert Hall, Shanghai's Oriental Arts Center, Cairo Opera House and others. Currently he lectures at the Frankfurt University of Music and previously at the Mozarteum Salzburg. He has conducted master classes in Malaysia, Russia, Italy, Croatia, the U.S., Vietnam and China.
Elizabeth Gutierrez, Founder and CEO of pianoteacheracademy.com, enjoys a diverse career as a performer, pedagogue, teacher, editor, composer, and educational consultant. She previously taught on the faculties at the University of Wisconsin-Madison and The University of Texas at San Antonio and also served as a piano editor for major music publishers. She is a national clinician for Faber Piano Adventures and gives numerous workshops and master classes to independent teachers around the globe. Her energies are focused on training piano teachers worldwide with targeted online tutorials and self-study courses at the Piano Teacher Academy.
George Litterst is a well known music educator in the United States. A frequent clinician at national music educator conferences (such as Music Teachers National Association and National Conference on Keyboard Pedagogy), he is an author, performer, and music software developer. A classically-trained pianist, he presents multimedia performances on technology-equipped acoustic pianos. For many years, he has been an associate editor for Clavier Companion and co-author of the Tech Connect column for American Music Teacher. As a music software developer, he is co-author of the intelligent music display app, SuperScore, and other software products from TimeWarp Technologies.
Irish pianist Peter Mack is in great demand as a performer, clinician, convention artist, adjudicator, and teacher. Celebrated for his moving playing and his easy rapport with audiences, he has performed throughout the United States and Europe, as well as in Australia, India, and the former Soviet Union. His students are frequent winners of local, national, and international competitions. An active educator, he is current President-elect of MTNA. "Mack is one of those lucky ones, born with a completely balanced set of talents… In all capacities he is indefatigable...." --Los Angeles Times
Your Host
Founder ELIZABETH GUTIERREZ began Piano Camp for Piano Teachers in 2009 as an extension of the instructional blog of the same name - pianoteachercamp.com. She has years of experience teaching piano, piano pedagogy, and piano literature to undergraduate and graduate students at the University of Wisconsin-Madison and the University of Texas at San Antonio. She has given numerous workshops and master classes to working independent teachers around the globe both in person and via livestream on Facebook and Periscope and also as a national clinician for Faber Piano Adventures. For her workshops and online courses, she draws on her extensive background as an independent teacher, professor, performer, and composer/editor/author.
How and when do I transition students from a method book to classical repertoire?
What are the most essential classics and composers to teach at each grade level?
What elements of style and interpretation should be top of mind?
This summit of webinars will address these questions and more!
Access the video replays anytime, anywhere, across all devices right here on this website. No expiration ever!

What teachers are saying
Watching this conference (2017 PCPT) right now on replay and finding so many teaching tips. A true gold mine of piano pedagogy wisdom. Such well spent money and time. The info is multi-level and plentiful - am going to have to write notes upon notes!"
- Sarah Arnold, Brussels, Belgium
"Thank you SO much for offering the 2018 piano camp on practice. Absolutely wonderful! All of the teachers were great and helpful in different areas. Bravo! I hope you offer the camp again!
- Carol Kandoll, Petersburg, Alaska
Thank you Elizabeth for another wonderful Piano Camp for Piano Teachers. I'm especially excited that I will be able to watch the videos over the next year. You're a huge blessing to the piano community."
- Ginny Godsey, San Antonio, Texas
Your Post-Conference BONUS!
Besides receiving LIFETIME access to the Conference replays, you'll be invited to monthly coaching sessions held in January. February, and March of each year. It's your chance to ask Elizabeth (or guest experts) about specific issues you are encountering in teaching classical repertoire. You'll also receive important updates on what's new in classical music publishing - new repertoire collections, editions, guides, etc. These LIVE sessions are a really great way to stay up to date!

Be a part of this unique event for piano teachers around the world!
Frequently Asked Questions
Do I have to be an experienced piano teacher to join these sessions?
Certainly not. The core sessions may serve as some 'new' and some 'review' for independent piano teachers who have background in teaching classical repertoire. For less experienced teachers it will offer you a thorough overview of literature from mid-elementary to early-advanced levels, the pacing, the appropriate sequencing, etc. For all teachers it will assist in leveling up skills and of course, the guest sessions will offer deep dives into specific topics.
Am I required to attend the LIVE webinar sessions in order to receive the replays?
You will receive the video replays regardless if you attend the LIVE sessions or not. However, if you attend a LIVE session you'll have the opportunity for exchange with the presenter and other participants. Plus....you'll be eligible for door prizes among those who are present on the webinar.
How long will I have access to the video sessions?
How does lifetime sound? On around August 1, you may view the 7 sessions at your leisure as many times as you like using your login information. Presenter handouts will be available for download.
How do I log in to the sessions? And what if I forget my log-in information?
You will use the username/password that you create when you make your purchase. Should you forget that combination, please email us at
[email protected]
. We will then send you a new password which you may re-set later.
What if I am unhappy with this online summer camp?
We would never want you to be unhappy! If you are unsatisfied with your purchase, you must contact us within the first 30 days after your purchase and we will give you a full refund. There are absolutely no refunds after 30 days.
Whom do I contact with additional questions?
Approximately how many hours of video are included in this conference?
The conference consists of 7 presentations with approx. 12 hours of video instruction total.
How is this conference different from the existing "Sorting Out the Piano Classics" online course?
The current online course is a self-study course only. This Conference will feature that information and more! On July 28 and 29, Elizabeth will present the pre-recorded material from the self-study course during LIVE webinars. At the end of each webinar, attendees will have the chance to ask questions about the pre-recorded session and engage in discussion with the other webinar participants. We will allow plenty of time for Q&A, and maybe we'll have a fun drawing or two! The 3 guest presentations (July 22, 30, 31) are NEW and will be presented "live" with recordings available afterwards.
What if I am already enrolled in the "Sorting Out the Piano Classics" online self-study course? Do I receive a discount if I attend?
You sure do! A significant discount. Log in at the top right of the menu bar above ↗, select the "Sorting" course icon, click Curriculum in the left sidebar, and inside the curriculum you'll find your Conference coupon code. Apply it at check-out and you're all set!
Do you offer a discount for full-time college students?
Yes! A full-time college student can recevie a 50% discount with proof of enrollment at a college or university. Email
[email protected]
to request your coupon code. You'll be directed on how to verify your status.
This course is closed for enrollment.